Puppy Yoga, a brilliant idea or asking for trouble?
Yoga trends do come and go, but we have a feeling this one might just... Stay! Stay!
If you have ever practiced yoga at home and woken from Savasana with your pet relaxing at the end of your mat... you know, just feeling the vibes or your dog trying to get in on the mat just as you stretch back in downward dog... then you know how much our pets bring a smile to the face when their curiosity leads them to your mat!

If you have never heard of Puppy Yoga you may have heard of it's early first cousin, Goat Yoga! Well, puppy yoga is certainly a calmer affair and it's actually just like a normal yoga class — except puppies roam free throughout the room, spreading joy and providing entertainment.

At first we had a billion questions, concerns and queries about the entire process, we will visit those later, but having witnessed our first class Puppy Yoga Class, it was a wonderful experience for all involved!

In our experience the puppies loved it!


"Canine Therapy! Interacting with a dog can lower stress and anxiety, while improving our mood"
We all know that yoga and meditation is good for stress and the soul, introducing it to wider audiences can be difficult. Learning breathing techniques and getting your body into movement is just what the doctor ordered for us ALL... But we maybe have never really thought about how much our pets bring us love, comfort and ease anxiety and stress! Interacting with your dog or furry friend can lower cortisol levels.  

You may have heard about a hormone called cortisol, which is released when we're stressed out, and is often coupled with heightened blood pressure. Over time, these factors can lead to high cholesterol and hypertension. Luckily, reducing stress can be as simple as bringing movement into your life, interacting with a dog, which significantly lowers cortisol levels and improves your immune system's functions.

Did You Know?
A study found that when people took care of dogs for just three months, they showed significant drops in blood pressure and reactivity to stress.

So Puppy Yoga really is a great combination of bringing movement and calm to the body, breathing right and connecting within to the soul, adding that element of joy when the little ones nestle in for a cuddle is just a joy!

But do the puppies enjoy these classes?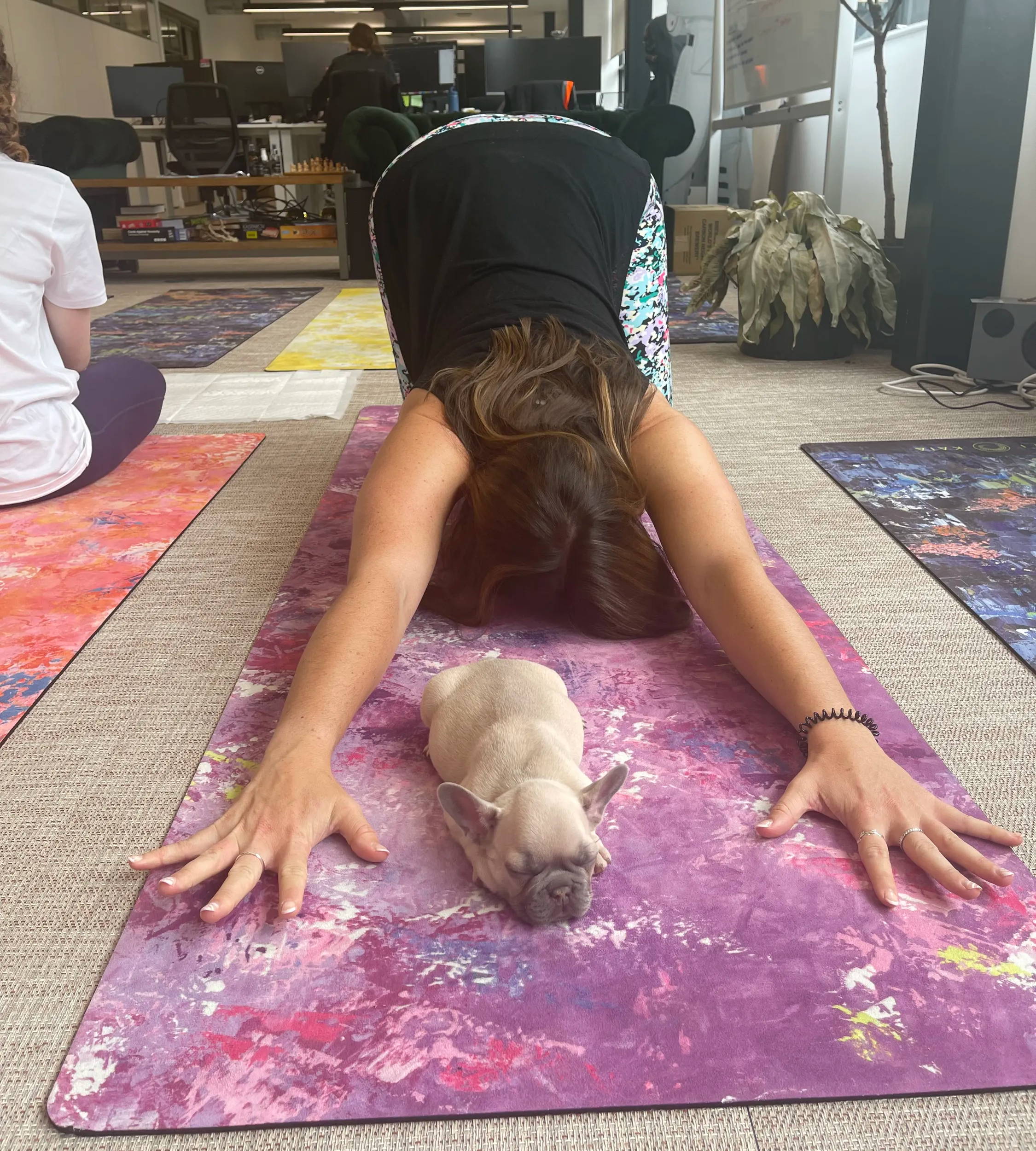 ---
Cuddling and petting puppies isn't just fun, it's important for their socialization. All the love they receive during class helps them become more comfortable, friendly, and confident around people — something that will benefit them later in life.

They get the opportunity to socialise, exercise and interact with people at a young age, which is really important to have these loving and safe experiences.

In our Puppy Yoga London event, yoga teacher Jade aka @Yogaandflow led the slow flow class before hand, this was in a private office lunchbreak, with lots of time for relaxation and calm, this really does set the scene and the vibes are so good and relaxing - by the time the puppies are bought into the practice space, everyone is calm and joyful, so the puppies react to that energy. One Pup even feel asleep on our mats, the calming atmosphere and cuddles were enough contentment to find a soft spot and curl up.

Some are even up for adoption, though most of them are reserved as these breeds are very popular, but you can get on the waitlist if you fall in love! The puppies build confidence around people, a good ability to calm, mild energy in transitional environments and socialisation skills that makes for a lovely nature. Which is even better for their new owners and in training.  

The puppies have a 30-40 minute quiet time after each session, after their socialisation sessions they are returned home to their mum each day and each week they get more and more confident leaving her for a few hours. They are only used for Puppy Yoga for a few weeks during their socialisation period, after this time they will all go to their new homes and start their new lives as much more confident dogs than they begin with.

If the welfare of the pups was a concern, you really don't need to worry - The health of the puppies is the most important thing. There are vital health checks with the owners to make sure they believe that the puppies are ready to be socialised.

So, to sum up: Puppies enjoy the warm cuddles as much as anyone! Breeders like to have them socialise and in group environments from an early age, it makes them comfortable with human interaction.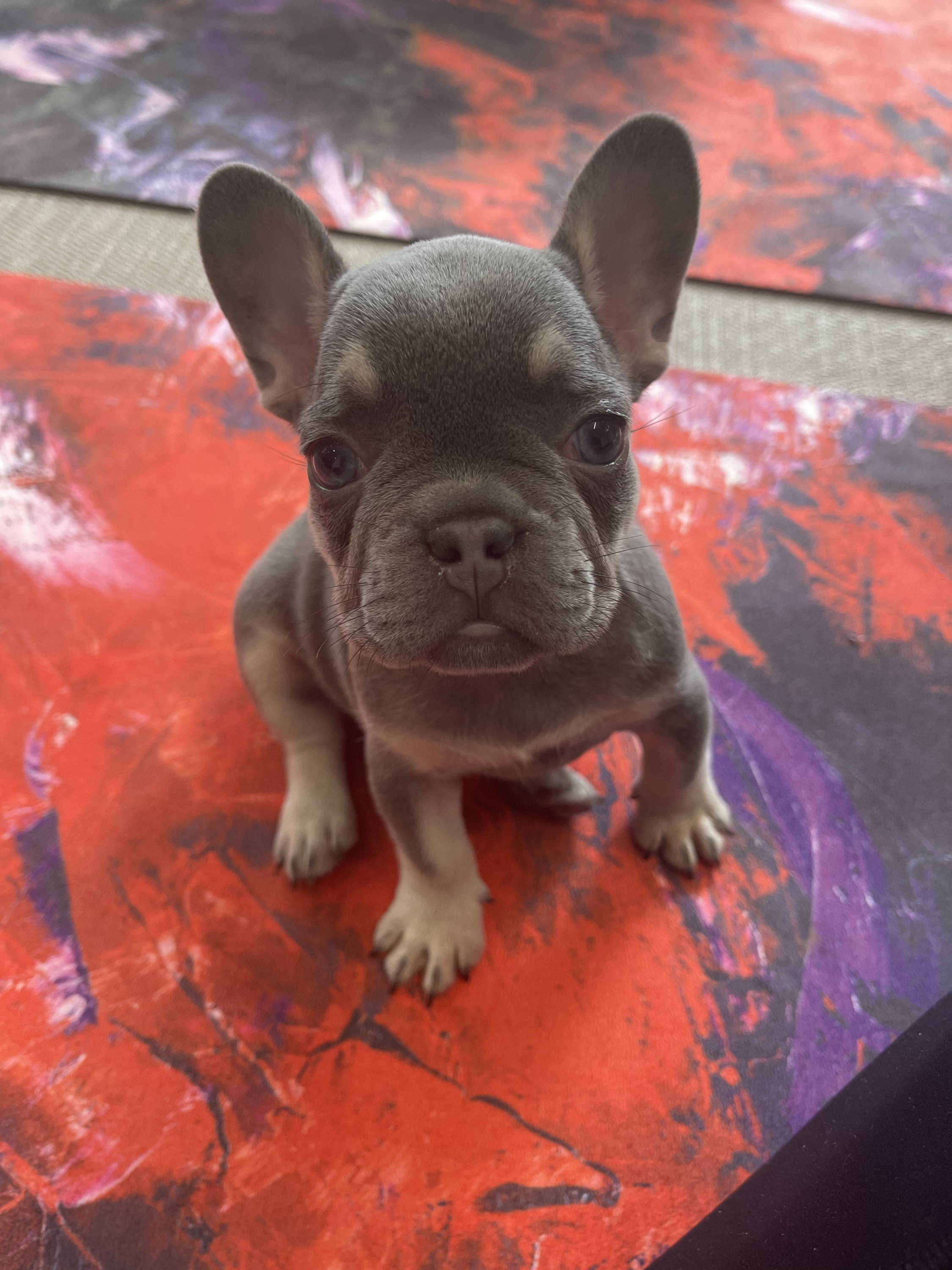 Cuddling a gorgeous pup combined with yoga and relaxing vibes, was truly such a positive and happy experience. No little accidents happened - which it can happen - thank goodness all our yoga mats are machine washable!

We found the whole experience a positive one, so if you are passionate about pets and wellbeing, you have to try Puppy Yoga! We can't wait to host one again!
Our vision is to be a guiding light to all on the journey to a balanced, creative and mindful lifestyle. Reflecting the source of nature to inspire our communities through Yoga, Unity and Peace.